New Limited Editions & Ports

Chile Carménère
Opulent and rich, Carménère boasts the luscious flavors of red cherries and berries, with hints of spice and leather enhanced with robust tannins.
Oak: To your taste

Grape Skins: Crushed
Oak: French / Hungarian

Food Pairings
Bison burgers, Lamb kebabs, Meat pie, Sharp Cheddar cheese
Australia Shiraz Viognier
Stylish yet refined. It is lush with a tapestry of smooth tannins and succulent dried fruits, vanilla and black pepper.
Oak: To your taste
Body: Full
Sweetness: Dry
Grape Skins: Dried
Oak: French & Hungarian
Food Pairings
Braised Lamb, Short Ribs, Aged Gouda, Chocolate Cake
The Ports Are In !!
Classic dessert wine kits - back with a new name and new look, but the same great wine!
The Apres line of wine kits offers exquisite flavors of chocolate, caramel, raspberry, marshmallow and SOMETHING NEW!!!
We have brought in all natural flavorings for our ports!

Espresso Bean / Raspberry / Orange / Caramel / Blueberry / Chocolate / Blackberry / Almond !
Mix and match with just one kit!
Make 5 Chocolate Almond and 10 Espresso and 5 Chocolate Orange and 10 Blackberry and a few Raspberry!
Your choice ! Have fun!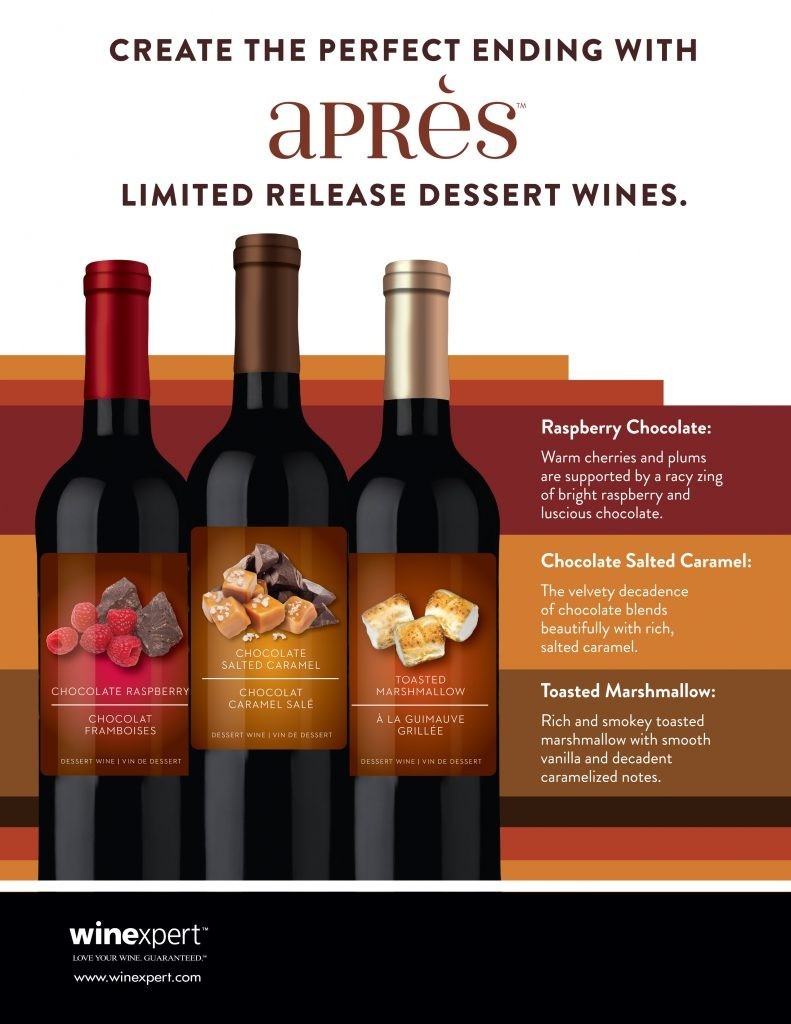 Ohhhhhh, Forsa is back !!!!
Deep ruby color with aromas of plum, smoke and spice. Rich flavors of dark fruit, chocolate, and cedar with lingering oak and a firm, long finish.