New 2018 Limited Editions
& Ports

Black Cab
Lodi, California
Red Wine. Cherry, red berries, cassis, spice, soft vanilla. Vibrant acidity and smooth tannins.
Dry | Med. Body | Med. Oak | 12.5% ABV*

Fumé Blanc

Hawke's Bay, New Zealand
White wine. Tropical fruit, gooseberry, melon, grassy notes, gentle vanilla oak. Bright acidity.
Dry | Med. Body | Light Oak | 13% ABV*

Corazón
Curicó Valley, Chile
Red wine. Juicy black and red berries, cherry, plum, with underlying oak and smooth tannins.
Dry | Med.-Full Body | Med. Oak | 13% ABV*

Symphony Gewürztramine
Sierra Foothills, California
White wine. Floral and peach aromas, tropical and stone fruit flavors. Crisp and bright with subtle sweetness.
Off-dry | Light-Med. Body | No Oak | 12% ABV*
Barbaresco
Pedmont, Italy
Red wine. Cherry, red berry, licorice and spice, with firm tannins and a long finish.
Dry | Full Body | Med.-Heavy Oak | 14% ABV*
The Ports Are In !!
Classic dessert wine kits - back with a new name and new look, but the same great wine!
The Apres line of wine kits offers exquisite flavors of chocolate, caramel, raspberry, marshmallow and SOMETHING NEW!!!
We have brought in all natural flavorings for our ports!

Espresso Bean / Raspberry / Orange / Caramel / Blueberry / Chocolate / Blackberry / Almond !
Mix and match with just one kit!
Make 5 Chocolate Almond and 10 Espresso and 5 Chocolate Orange and 10 Blackberry and a few Raspberry!
Your choice ! Have fun!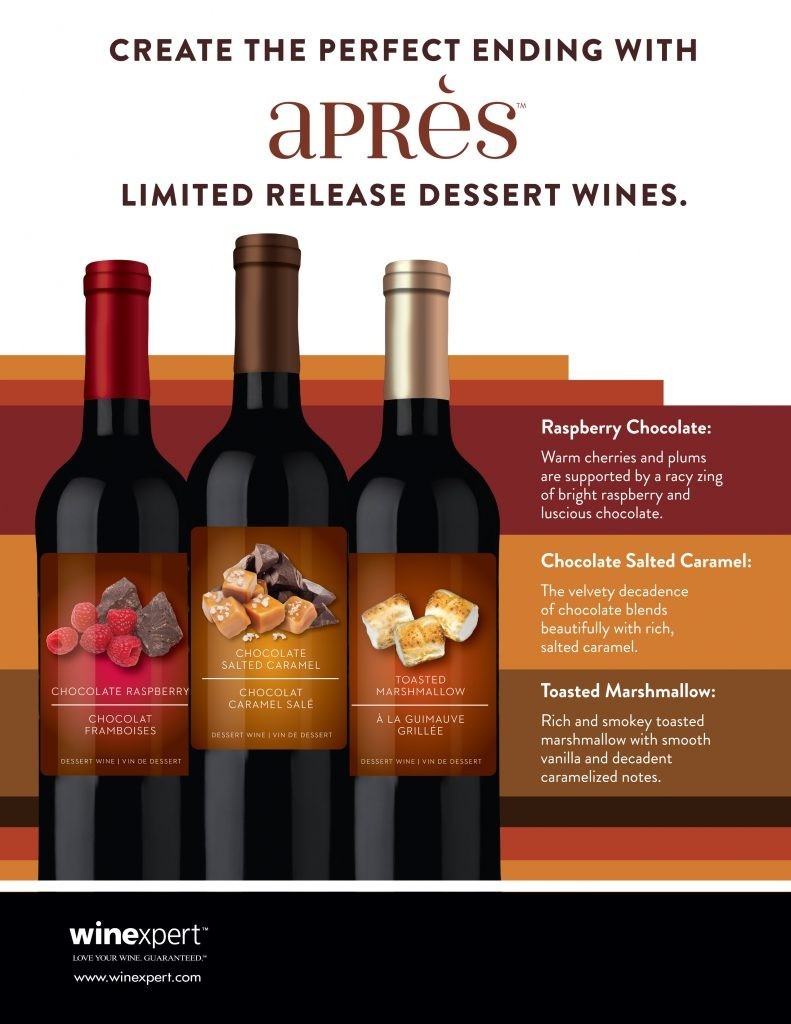 Ohhhhhh, Forsa is back !!!!
Deep ruby color with aromas of plum, smoke and spice. Rich flavors of dark fruit, chocolate, and cedar with lingering oak and a firm, long finish.
"Speak softly and carry a big bottle of wine."-Theodore Roosevelt